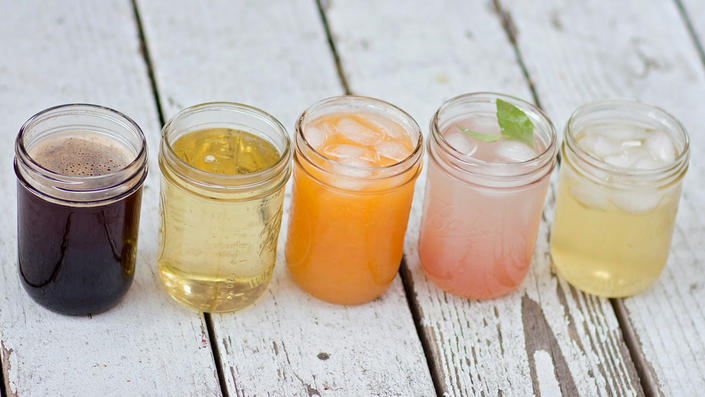 Homemade Cocktail Mixers Masterclass: Wildflower Mixology
Wildflower Mixology: Homemade Cocktail Mixers in Fresh, Fun, & Unique Flavors
Watch Promo
Enroll in Course
IMAGINE if your guests arrive and you're able to hand them the most gorgeous cocktail that you made for them in just a few minutes.
Learn how to craft simple, fresh, and delicious cocktail mixers using
easy low or no cook techniques


recipes from yesteryear and

ingredient combinations you'll find in the grocery store aisle or farmer's market.

You know that awful, nervous feeling when it is your turn to host book club, help organize a graduation party, arrange a bridal shower or invite your in laws over for drinks?
Or are you the one in the family that gets nominated to host company, even though it is definitely not your turn nor your idea of a good time?
Your house is a wreck, your couch may or may not double as a dog bed, and you have zero idea of how to feed and water all these people. You feel unprepared, uninspired, and a bit at a loss as to how to make your guests feel like they are attending a special event. You are afraid they'll leave feeling (knowing!) as if you were on edge the entire time.
You'd like to be one of those hostess you see on the cover of a magazine: calm, smiling, serving brilliant, gem-colored drinks, with a wholesome meal cooking somewhere out of sight.
I can't help with the messy house, but I can definitely help with the drink menu.
Are you ready to be the hostess that everyone can't stop complimenting?
Knowing what to serve a crowd of guests or just yourself after a long day will be a breeze after you take this course.
I teach step-by-step, super simple recipes, no or low cook preserves, and easy techniques that you can learn in minutes.

Have you seen the ingredient list on the bottle of boring ol' margarita mix from the grocery store shelf?
Ugh, I have and it ain't pretty. Those ingredients that you can't pronounce, the chemicals you read about in health magazines and hear about in the news...yeah, they are in your cocktail glass. Don't even get me started on the artificial coloring...yikes! You want to be able to relax with a tasty drink, not worry about the red dye giving you cancer AND staining your teeth!
Even if you aren't interested in health, you probably are interested in the shape of your wallet. Drinking can get expensive in a hurry, and in some locations, it is very costly to go out for an evening of drinks. Making cocktails yourself is way less expensive, which means you have more money for a fun outfit, a gift for the bachelorette, or to splurge on a higher quality bottle of spirits to accompany your homemade mixers.

Everything is better homemade. Everything.
Cocktail mixers are no exception. The drinks you see on this page were made with fruit and veggies I got for cheap at the Thursday Farmer's Market in my little town and with berries I picked myself. Simple, low tech, and fast, these gems are beautiful to behold, there's no denying it. Those colors are 100% real- no photo magic here.
Get ready to accept a ton of compliments,
Miss Hostess with the Most-ess.
Imagine feeling PROUD of the beverages you were serving to company, instead of uncertain, embarrassed, unprepared, or at best, underwhelmed.
The recipes, techniques, and flavor combinations in Wildflower Mixology are completely unlike the saccharine sweet daiquiri or boring old margarita mixes from the supermarket shelves. They are called craft cocktails for a reason.
Be prepared to impress everyone, including yourself.

Life is full of reasons to celebrate.
This course will help you bring joy to
engagements

graduations

births

weddings

home purchases

new jobs

new pets

new clothes

old friends

dream chasing

problem solving

and so much more!

Here's everything you'll get:
Course Curriculum
Wildflower Mixology Course Ebook
Available in days
days after you enroll
Wildflower Mixology Course Happy Hour Pinterest Group Board
Available in days
days after you enroll
Here's a peek inside an online course so you see exactly what it's like! Psst...there's no homework!
Here's what students in my canning courses have to say:


This course is for both those whose want to spike their drinks AND for those who don't.
Yeah, lots of the recipes include quantities for including the optional shot, but they all can be made without spirits, with the singular exceptions of the bounce and coffee liquor recipes.
I'm not interested in encouraging you to drink more alcohol. You do you, girl. I AM interested in helping you drink better tasting, more beautiful, more wholesome beverages that you can be proud to serve when your nearest and dearest arrive.
Your Instructor
A junior high and community college English teacher by trade, blogger by nap time, I love to help others learn that handmade, homemade, and self-made make our daily lives better and more fulfilling.
I started canning when I was pregnant with my first child (some gals paint baby rooms, I made 100 jars of applesauce). I poured over cookbooks, stood sweating in the kitchen, certain that I'd give me, my husband, and my unborn baby food poisoning.
I sorted through pots, pans, ladles, funnels, lids, rings and so many jars.
I scorched jam, under sugared, over spiced, broke jars, and learned the hard way why you need a specific set of tools.
I want you to skip all that worry, uncertainty, and time wasting and jump right to the good part where you get to enjoy nourishing foods months after harvest and know what is in every mouthful.
Now, I'm a Master Food Preserver. You don't have to worry about learning any potentially dangerous methods or outdated techniques from me. I'm here to help you preserve food the modern, fast, and safe way!
Frequently Asked Questions
When does the course start and finish?
The course starts now and never ends! It is a completely self-paced online course - you decide when you start and when you finish.
How long do I have access to the course?
How does lifetime access sound? After enrolling, you have unlimited access to this course for as long as you like - across any and all devices you own.
What if I am unhappy with the course?
We would never want you to be unhappy! If you are unsatisfied with your purchase, contact us in the first 30 days and we will give you a full refund.
What if I don't drink alcohol?
You will still enjoy this course. In fact, much of the inspiration for this course came from an old Prohibition Era cookbook full of interesting things to serve company that were non-alcoholic. There is one recipe that requires the use of vodka to preserve chokecherries, and the coffee liqueur recipe also requires it. Those are the only mandatory additions of alcohol. Cheers!
How much time does this course take?
Not much! Each video is about 10 minutes long. The ebook is designed to make it easier to digest the information no matter where your busy life leads. You can watch the videos while you are in the kitchen, read while on the elliptical machine, and work on the workbook when you are avoiding paying bills. You could enjoy every video in a weekend but I think the course is best enjoyed one recipe at a time. It is up to you!
How long do the recipes take?
I know you are so busy. The recipes themselves are generally short, with easy to find ingredients and simple techniques to prepare them. The shrubs are prepared with no cooking at all, but they take several days to develop the flavor you'd be looking for in a cocktail. Make them on Sunday or Monday for a weekend soiree. The recipes take about 10 or 15 minutes to prepare.
What are your qualifications to teach this course?
Gee, thanks for asking! Well, I have been teaching English for 10 years in a junior high, high school and community college. I'm really good at explaining things. I'm also a genuinely enthusiastic person, so expect a lot of encouragement out of me as your teacher. I waitressed in a bar in college (tip money= textbook money!) and drank a lot of terrible cocktails and expensive tequila, so I'd say that's my most directly relevant experience. I've been writing and educating about a homemade life on my blog, The Domestic Wildflower, for almost two years and I teach canning (the next step in preserving) at www.startcanning.com I am genuinely passionate about helping you skip the grocery store aisle in favor of homemade cocktail mixers.